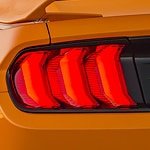 Ford Mustang has outstanding handling capabilities that rank it above most vehicles in its class. It is engineered with top-notch parts that ensure maximum efficiency and effectiveness. Visit us Lithia Ford Idaho Falls for a test drive, and experience ford mustang's enhanced handling functionalities.
Excellent gripping capabilities
Ford Mustang is fitted with a 2.3L high-performance handling package that comes in handy for thrill-seekers who like sharp corners and high spirited driving. This feature enables the car to have a tight grip on the road, guaranteeing stability regardless of the speed. In addition to this, it is equipped with 19 X95 aluminum wheels, which are both bold and aesthetically beautiful. They also have Pirelli Corsa tires that are durable and up to the task, no matter the terrain type. It is further fitted with an excellent damping system that efficiently minimizes the vibrations and post oscillations, making off-road driving more comfortable and enjoyable.