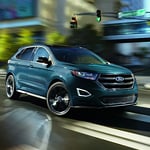 A fashionable outlook is flawlessly infused within the Ford Edge's formidable approach to design. This charmingly robust crossover SUV delivers on the promise of fearless style. Lithia Ford Idaho Falls always trusts this contemporary ride to dazzle onlookers with ease.
The unconventional contours command attention with seductively sleek architecture. This illustrious curvature is cunningly amplified by an eye-catching hood alongside an exotic grille. Meanwhile, the lavish interior arrangement relishes an extraordinary love for vanity. The masterful inner craftsmanship is complemented by glorious visual accents such as prominent red stitching and a grandiose leather-wrapped steering wheel.
One critical focal point is the surreptitiously compact rotary gear shift dial. This impressively streamlined apparatus provides enormous functionality while facilitating increased roominess. As such, there is ample space allotted for cupholders, storage bins and a USB charging port. Ultimately, this midsize delight enshrines the epitome of convenience that Idaho Falls craves.