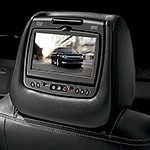 Even though various types of technology are a welcome addition to any vehicle, that doesn't mean that you want to be overwhelmed by technological gadgets that add no real value to your driving experience. When you drive the Ford Flex, you'll quickly realize that it was designed for those who want technology to make their days in Idaho Falls easier instead of more complex. Here are just a few ways the Ford Flex's technology can help enhance your day-to-day life.
One drive-enhancing technology feature is the available Intelligent All-Wheel Drive system. By analyzing the conditions of the road, your Flex can send the correct amount of power to both the front and rear wheels, preventing you from slipping before you ever realize you're in danger. Another convenient feature is the Adaptive Cruise Control, which uses sensors to track the distance to the vehicle in front of you. This means you can enjoy the convenience of cruise control even when the car in front of you keeps changing speeds.
For a full understanding of all the features that are available on the Ford Flex, we encourage you to stop by Lithia Ford Idaho Falls today.